MOSI Excess Surplus Restaurant & Catering Equipment
Wednesday June 27th @ 10:00 AM, Preview Starts 8:00 AM


We will be liquidating excess surplus from MOSI, Museum of Science and Industry.

* AUCTION CATALOG - CLICK HERE! *

EQUIPMENT
Enclosed Trailer, AC Units, Large Assortment of Decorations, Sheds, Coolers and more.

RESTAURANT EQUIPMENT
Stainless Steel Tables, Commercial Mixers, Buffet Warmers, Continental Refrigerated Prep Table, Reach-In Coolers,
Nesquik Glass Door Cooler, Ice Machines, Commercial Toaster Oven, Mixers, Waffle Maker, Toasters, Scales, Popcorn Cart,
Wood Booster Chairs, Impinger Conveyor Oven, Donper Soft Serve Machine #BH7480, Single Door Refrigerator / Coolers,
Meat Slicers, Large Assortment of Kitchen & Catering Supplies, Stainless Steel Bowls, Glassware, Paper Products,
Coffee & Tea Dispensers, Futurmat Rimini Espresso Machine, Food Warmers, Plates, Trays, Hot Dog Bun Warmer,
Cake Displays, Baking Racks and more.

Payments: Cash, Credit Cards, Debit Cards.
Free Bidder Registration, must have a valid photo ID to register.
Pickup Times: Day of Auction until 5:00 PM, Thursday & Friday 9:00 - 5:00 PM.

For questions regarding this auction please contact us.
CONTACT INFO

LIVE ONSITE
Begins:
06/27/18 at 10:00 AM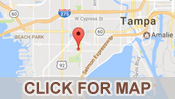 4801 E. Fowler Ave. Tampa FL 33617